Construction site security and surveillance
Construction sites and isolated sites are regularly the target of theft and deterioration.
We offer you temporary solutions to monitor and protect one or more construction sites, thanks to autonomous alarm systems and video surveillance systems specially designed for this purpose.
Contact us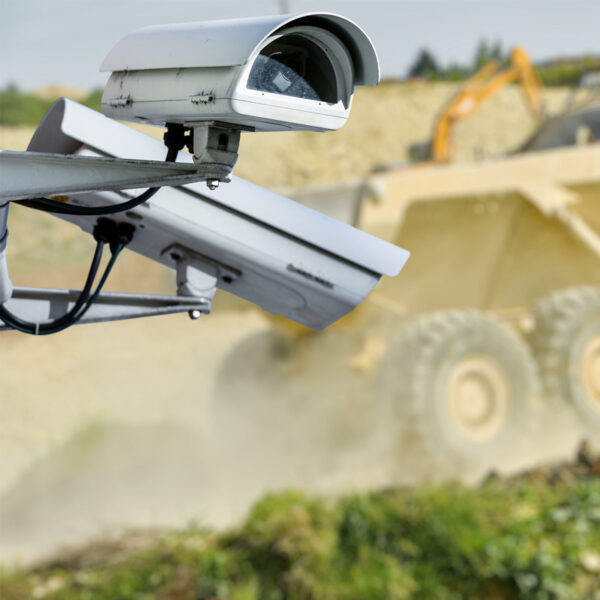 How does the site alarm work?
Our site alarm systems are equipped with a central unit designed to be placed outdoors and operate with wireless motion detectors. Equipped with cameras, these security systems also provide instant visual detection in the event of an alarm.
In the event of an intrusion, the alarm system instantly sends information to the remote surveillance centre, which will alert the police to intervene on the premises.

Do you want to secure your construction sites?
Discover our solutions to fight against vandalism and theft and protect your outdoor sites from 285,00€ VAT excl. per month.
Autonomous alarm system
To secure your sites, our autonomous alarm system can be installed anywhere in the blink of an eye. Its standard package consists of :
1 autonomous, waterproof and wireless central unit.
4 wireless motion detectors, installed at strategic locations on your site. The detectors are used to accurately detect all movements within the perimeter of the site.
1 wireless siren
Connection of the system to the SECURITAS remote monitoring centre
Our experts take care of the installation and setting up of your site alarm system, while offering a 24/7 intervention service.
Depending on your needs and your site, we can also modify our standard package by adding additional detectors and sirens.
Mobile video surveillance system
The video surveillance system we offer consists of mobile cameras. Each camera has the following features:
2 MP full HD resolution
A clear image with backlight management thanks to 120 dB True WDR technology
40 W photovoltaic panel, with a 20 Ah rechargeable lithium battery
Support for battery management, battery display, high and low temperature battery protection
Support for charge/discharge protection, low battery sleep protection and remote wake-up
Wireless network transmission LTE-TDD / LTE-FDD / WCDMA / GSM 4G
256GB micro SD card.
Connection of the system to the SECURITAS monitoring centre
Our experts will take care of the installation and the settings of the site camera, while offering a 24/7 intervention service.
Do you need more information about the installation and the management of your site alarm systems?